From Driving Traffic to Traffic Retention, How to Maximize Brand Value Through Amazon Streaming
In the last couple of years, digital transformation and branding have become some of the most commonly used words in the cross-border market. The topics of brand, branding and brand awareness have been widely discussed, yet many sellers continue to misunderstand its true value.
In our current market, branding not only builds customer trust and loyalty through a great product, but also integrates creative content, user experience, promotional material and various marketing channels. The impact of a good product in combination with a unique brand concept and refined marketing capabilities define who will stay ahead of the competition.
While the relationship between product and brand seem quite obvious, how are brand building efforts best put into place to support the promotion and sales of a product? This answer includes three fundamental elements: full-funnel marketing, customized promotional content and refined operations management. By focusing on these three elements and Amazon's advertising ecosystem, we will conduct an in-depth analysis of three different seller's brand practices, explore how enterprises build closed-loop marketing strategies and implement customized creative solutions.
Amazon Streaming Media Channels Provide a More Native and Immediate Brand Interaction Experience
For many sellers, the question of succeeding in brand transformation without an independent brand website is a common conundrum. Luckily, the answer is yes. As one of the main export channels for sellers, Amazon has continuously invested in its branding services
.
When it comes to Amazon's ecosystem, the platform has developed new ad products based on customer experience. Among them, diversified streaming media channels have created more opportunities for sellers to show off their brands such as Fire TV, IMDb TV and Twitch.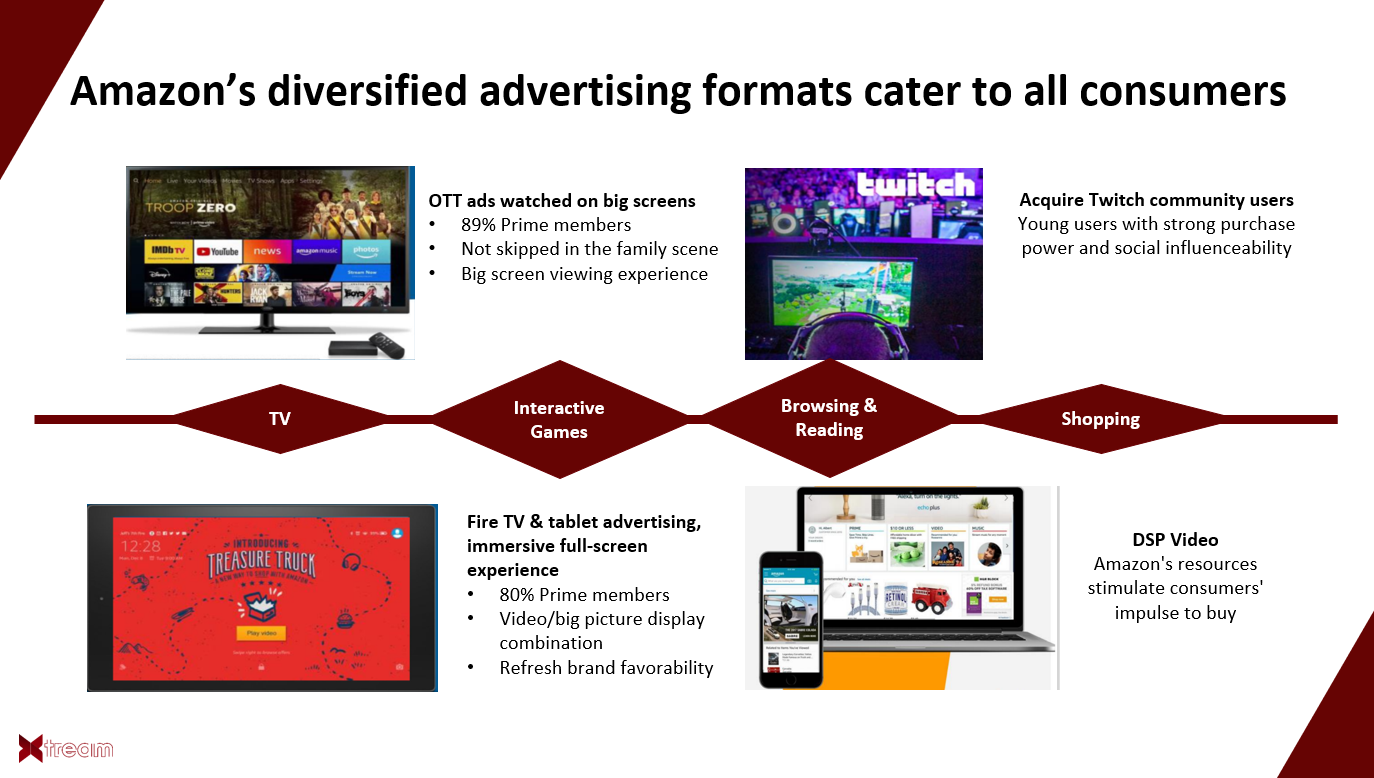 Data reveals that 82 million families in the USA have streaming TV devices and spend 100 hours per month streaming and watching content. The total viewing time is increasing by 21% year-on-year, proving that streaming media is growing in demand.
These streaming media channels combine brand and streaming video contents which are popular among audiences and successfully communicate key brand and product messages in a more immediate and native manner. When referring to the marketing funnel, streaming media resources focus mainly on the upper stages of exposure and traffic attraction, helping brands stay top of mind, gain more users, establish user loyalty and create more opportunities for growth.
The advantages of streaming media advertising are as follow:
Streaming media advertising is higher in quality and playing entire videos can attract a larger audience pool.
Streaming media advertising can reach audiences which are unique to streaming TV. 73% of audiences on Amazon streaming TV are exclusive to Amazon.
Audience relevance of streaming media advertising is higher. Brands can find more suitable target audiences and conduct effective advertising assessment and measurement by using Amazon's audience insights.
From "Driving Traffic" to "Traffic Retention"
While it is true that streaming media has significant advantages in terms of resources and coverage, with the increasing competition, it is necessary for brands to select suitable media channels to reach their desired audiences based on ads designed for reach and conversions through customized content. It is crucial to understand that traffic is not equivalent to conversions and the fundamental goal of marketing and brand building is conversions.
At Xtream Marketing, we continuously exploring ways to provide better and more precise data driven cross-border, integrated marketing solutions. To best apply these streaming media resources throughout the marketing chain and drive advertising value, we have summarized a few key points to help businesses grow their brands as well as sales.
Accumulate user data assets to conduct customer life cycle management
Data assets collected through the analysis and insights into user traffic, conversion and growth in user value and loyalty are crucial to businesses. This data helps brands gain a better understanding of the entire customer life cycle, allowing for the development of custom marketing strategies to conduct more refined operations management.
Marketing challenge:
An up-and-coming computer & accessories brand needed to grow brand awareness and attract as much new traffic as possible while ensuring sales growth.
Considering that the brand was having difficulties converting in the short-medium term, we extended the marketing strategy timeline and set different marketing goals by stages, expanded on potential audiences, enriched marketing channels and strategies to gradually complete the transition from "sales-driven" to "brand-oriented", boosting incoming traffic flow on Amazon Prime Day promotions.
Daily average search volume in 2021 was six times higher than that in 2020 and up to 31 times higher on Amazon Prime Day. New customer orders and sales volume all increased remarkably.
For the brand described in this first case study, we divided the strategy into three stages from 2020 to 2021. In the first stage, we expanded on small-town rural markets to increase target audiences and promote site conversions through DSP (demand-side platform) ads. The ratio of traffic attraction in relation budget and conversions was 4:6.
During the second stage, when RTG groups saw a decrease in scale and an increase in site conversion costs, we leveraged the benefits of traffic acquisition and established long term impact through product promotion and advertising at the upper level of the funnel. The ratio between product promotion, traffic attraction and conversions were 2:4:4. Throughout this process, we refrained from releasing too many ad formats at once, where we first implemented DSP advertising to lower exposure costs and tested as well as collected audience data via customized creative advertising.
In the third stage prior to the peak season, we readjusted budget and advertising strategies and managed the full customer life cycle from awareness, purchase intention to purchase and loyalty by making use of user data collected through previous DSP campaigns. At the same time, we included Twitch video advertising during the product promotion stages where we focused on specific user groups accumulated through DSP, achieving remarkable results in traffic harvesting and conversions on Amazon Prime Day.
Brand strengths, features and media characteristics
The advantages of streaming media are obvious, yet this does not necessarily mean that it is suitable for all brands. It is necessary to consider whether a brand's characteristics and media attributes are compatible, as marketing strategies developed from the understanding of this relationship are those that see incremental growth in advertising performance within short periods of time.
A headset brand with a stable brand foundation looked to actively reach more users by attracting traffic through new online channels and provide a larger traffic pool for conversions on Amazon.
As the marketing matrix of the brand was mature and most of its advertising strategies were being steadily implemented, new traffic channels needed to be developed to enable further market expansion. Through the analysis of audience demographic insights, Xtream Marketing decided to implement Twitch as the primary media channel for the campaign's marketing activity.
Brand search volume during the first month after the campaign launch was 1.2 times higher vs. pre-launch and remained at a peak of 1.5 times high after Amazon Prime Day.
After looking into the seller's target audience profiles, we discovered that a large number them overlapped with Twitch users, making Twitch the main platform for our advertising efforts. Insights revealed that users have a strong desire for brand stories, where full play rate is at nearly 90% vs. the industry benchmark of 75%.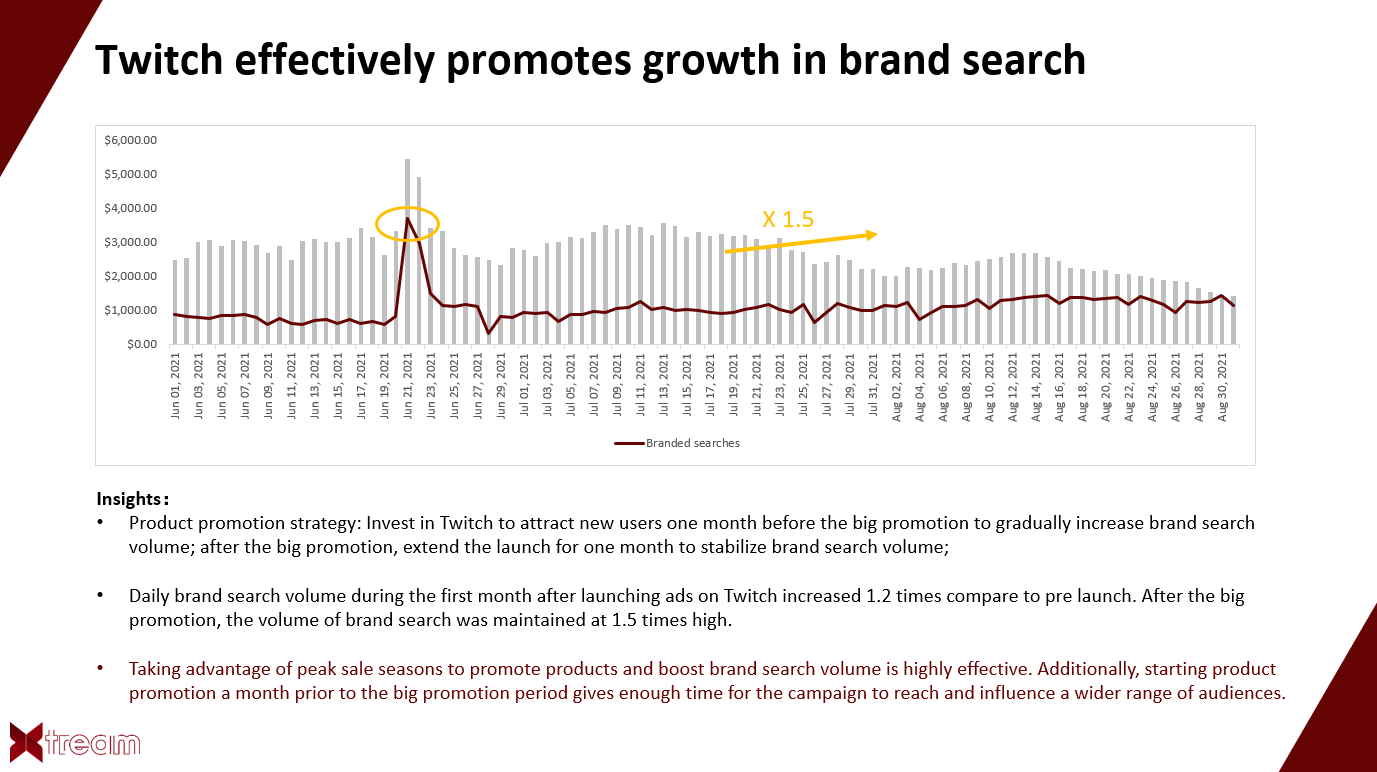 In terms of budget and advertising strategy, Amazon surveys proved that 39% of users considered repurchase one month before Amazon Prime Day, so we decided to launch advertising campaigns a month and a half in advance to enhance search volumes. As a result, the average brand search volume in the first month after advertising on Twitch was 1.2 times higher than the number of searches prior to the launch, remaining at 1.5 times high after Amazon Prime Day.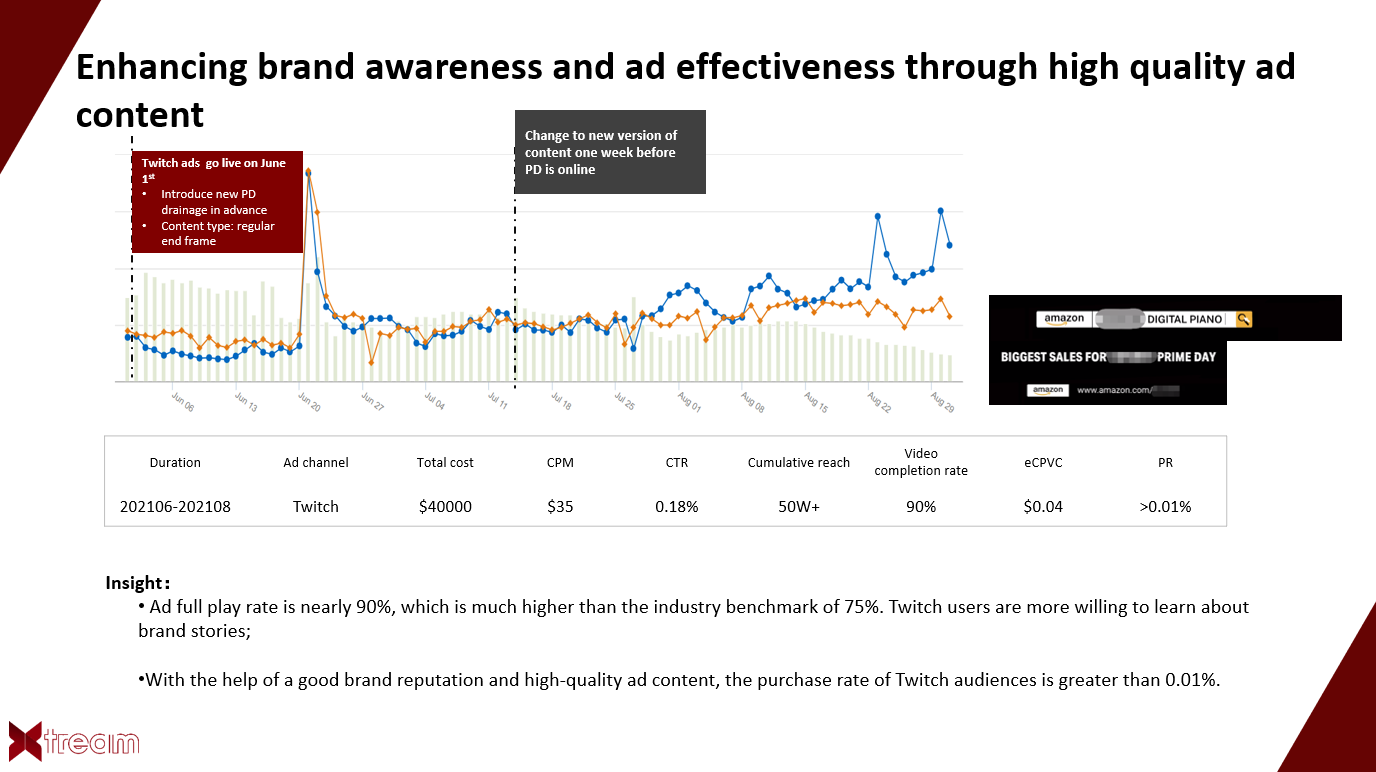 Throughout this process, we discovered that Twitch audiences are more sensitive to brands and brand stories, proving customized and relevant brand ads placed in the correct channels have the potential to significantly increase purchase rate. This fact also comes to show that relevant ad content not only attracts attention in terms of exposure and real-time conversions but also when improving long-term purchase and repurchase rates as well as brand loyalty.
Develop corresponding strategies based on different marketing periods and media formats
From the two case studies presented above, we gain a deeper understanding into Twitch users' high brand acceptability, strong purchase power and why they're a valuable to brands. Does this mean however, that all the brands who target younger consumers should invest in Twitch advertising?
A musical instrument business was advertising on DSP with satisfactory results. However, it seeked to reach a more high-end traffic pool through brand promotion to increase organic search results.
We tapped into the sellers' lack of brand awareness and their audience group of young consumers with an interest in musical instruments with a lack of purchase power. Through OTT, we covered families and target groups with music lifestyle tags to increase organic search.
Brand search volume during the advertising period increased by up to 25 times with new customer purchase rates up to 92% on Amazon Prime Day. Search popularity remained stable after the advertising period.
The brand presented in this third case study required constant brand exposure. By analyzing campaign history and advertising performance, we uncovered that video advertising would be one of the fastest and most efficient ways of improving brand awareness and reputation. Unskippable screen ads were used to cover numerous family users where high-quality video content further strengthened the communication of the brand's characteristics and values.
If we observe the brand's performance on BFCM in 2020 for example, we see that the average daily consumption of OTT during the promotional week increased by 200% of that during the warm-up period and decreased by 60% a week after. Brand search volume increased by 2.23 times during the promotional period and 4.32 times on the actual promotion day, where daily brand search volume remained at 1.5 times high even after promotional activity ended.
The product advertising methods of OTT long-term advertising and support from promotion activities also helped to attract more customers throughout different stages. Sales results showed that new to brand customer purchases were up by 82.6% during the warm-up period, 86.8% during PD week and remained at 84.6% after dropping slightly during the long-tail period, showing a consistent brand search trend.
Brand building is achieved through the process of building brand awareness, trust and loyalty to drive brand reputation and higher ROS. Harvesting and converting traffic during peak seasons takes time, where it is necessary to ensure that various performance indicators are being implemented. Meanwhile, diversified combinations are required when choosing ad formats and channels, such as display advertising, video and audio advertising as well as streaming media advertising.
If you would like to find out more about our integrated marketing cases or content related to Amazon Marketing Cloud (AMC), please leave us a message at Contact us!